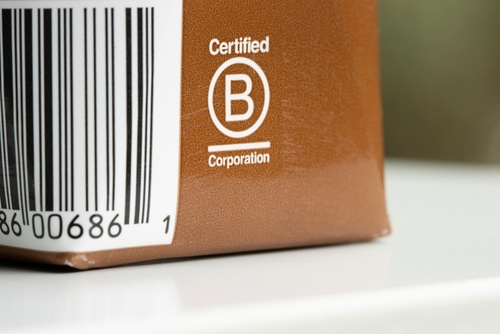 Passing The Sustainability Test in Finance
FSP talks to three FS companies who've achieved B Corp certification
In our latest article, we continue our exploration of B Corp by chatting to three companies who have achieved the status. Businesses can often be deterred by the level of effort and time required for the assessment process. However, herein lies the value of B Corp itself. The level of rigour required means that accreditation is a valuable asset that prospective clients and consumers can trust.
Our interviewees talk about their experience in becoming B Corp certified, why it's so valuable and what advice they have for fellow businesses who want to start the process.
(B Corp has currently paused new B Corp Certifications for financial services companies with greater than $1B in revenues while it reshapes the assessment process. For more information on this, please see our previous article here.)
BKL's Myfanwy Neville (Head of Sustainability and ESG) and Simon Bussell (Commercial Director): "B Corp is a huge commercial advantage in a competitive marketplace"
BKL's focus on sustainability
Myfanwy Neville (Head of Sustainability and ESG) and Simon Bussell (Commercial Director) are from BKL, a firm of chartered accountants. BKL achieved B Corp certification last September. The pandemic had led them to learn a lot about the business and its people in that time as they thoroughly analysed and assessed their ways of working. Wanting to build on that and increase their focus on sustainability, achieving B Corp status seemed like a logical next step.
Initially they used the free B Lab assessment tool (which is the B Corp assessment framework) to give them an understanding of their starting point – it gives you an initial B Corp score, which you can then submit to B Lab for official verification. Neville emphasises that "even if business aren't ready to achieve B Corp accreditation, it's a really useful benchmark to highlight potential issues within your operations."
Managing the B Corp process from within
The B Lab accreditation process took 18 months because of the sheer volume of businesses applying to become B Corp during 2021. However, the company passed on the first go, and even achieved an Impact Business Model for how they work with their employees. It's a robust process which made it this a huge achievement for the firm.
BKL didn't appoint a consultant to assist them with the process – they worked their own way through the process, but could also see how helpful it could have been to work with an experienced consultant who knew their way through the process. Neville comments "external consultants are valuable but need to thoroughly integrate themselves into the organisation's operations in order to provide the greatest benefit." Ideally, an external consultant would team up with an experienced colleague within the company who can provide comprehensive data on C-suite – the two can then work in tandem to produce a plan.
As well as the huge amounts of data and evidence that needed to be gathered, a more commercial question arose in getting the partners to change the partnership agreement to include paragraphs to balance profit and purpose in all decisions – this is a fundamental point for the business, as it requires a legal sign-up. This went smoothly for BKL but could be a point of contention in other organisations.
The commercial benefits of B Corp
Again, Neville and Bussell emphasise how efficient it is to hold B Corp status when dealing with other companies. Clients quickly realise they can put a tick in the ESG box by engaging with businesses that hold B Corp status. The accreditation gives them everything they need to know immediately rather than having to do multiple checks to make sure they meet their sustainability criteria. Indeed, Neville mentions that businesses have started to approach BKL in lieu of its competitors specifically because it holds B Corp status: a huge competitive advantage.
Internally as well, people can feel proud that they're working for a forward-thinking, ethical company – a significant morale booster in a climate where people want to shoulder more societal responsibility. Bussell comments that "BKL have just created a new role for an Impact Project Manager to ensure we continue these high ethical standards across all areas of the business."
To find out more about BKL please head here.
WHEB's Laura Grenier (Director of Operations): "Sustainable practice is continually evolving – make sure you evolve with it".
One of the early pioneers of B Corp in the UK
Laura Grenier (Director of Operations) is from WHEB, an impact investment firm. One of WHEB's key goals was making sure that all employees across the company knew the importance of what it meant for both the company and them, individually, as employees to be B Corp certified.
WHEB was one of the early pioneers of B Corp, certifying as early as 2016 and undergoing the three-year recertification process since. They believe the certification process has rapidly become far more comprehensive with greater analysis of a company's reports and documentation. Naturally, the questions and assessment evolve with society and our environment. However, if a company is genuinely sustainable and meeting ESG targets regularly, any new assessment criteria should not be daunting.
A genuine reflection of sustainable practice
Laura believes the pillars of the B Corp assessment are strongly aligned to the values of WHEB Asset Management: "WHEB focuses on positive impact assessment and companies that provide solutions to sustainability challenges. One of the pillars of success in the assessment is the impact a business has on its customers." In addition to its investment funds, WHEB provides education tools and are highly transparent in their reporting.
However, WHEB's philosophy is that the business itself should also have its own positive impact. Laura believes the required recertification is an extremely useful exercise in ensuring the business is continually improving and keeping up to date with changes in the environment it operates in. This is critical for the evolution of the company.
Advice on navigating through the process
Laura advises fellow businesses not to have unrealistic timelines in terms of the assessment process or feel deterred by the thoroughness required. Companies should be prepared to spend time analysing their data, submitting it in the required format and then, if necessary, amending and resubmitting. But if you are genuinely meeting the criteria and can commit time to gathering the evidence, you'll achieve the status eventually.
WHEB chose not to use a consultant due to the size of the company although note it could be useful for larger firms. Laura comments "we wanted someone internal who knew the inner-workings of the business and exactly which person to contact for the various data required." As with BKL, a critical step for them was changing their Articles of Association and ensuring the new legal framework was built into their current partnership agreement. The more mainstream B Corp becomes the easier this process should be as in addition to the legal implications, top-down support from leadership or partners is crucial.
WHEB consider their B Corp certification as "a useful tool to let clients and external stakeholders know about a company's values and the way it operates." However, it is important to note that certification shouldn't solely be approached with this goal in mind. Laura also mentions that in looking for new partners, she prioritises fellow B Corps, knowing that they are aligned with the company's own values – an insightful example of how a sustainable network has the potential to grow.
To find out more about WHEB, please head here.
Felloh's Founder, Will Bicknell: "Don't be deterred by the admin involved".
Why become B Corp certified?
Will Bicknell is the founder of Felloh, a company bringing transparency to travel payments. He comes from a background of both tour operating and acting as Chief Innovation Officer for a fintech.
The travel industry is a complex beast for merchant acquirers. Firstly, it is treated as high-risk position as travel is usually a deferred delivery product – you pay but then don't actually take the holiday for weeks or months in the future risking the travel company becoming insolvent in the meantime. Secondly, there's the Package Travel Regulations which mean you need to protect the consumers through insurance policies, bonds or a trust accounts. Unfortunately, the two don't always align leading to onerous admin or duplicated protection for travel merchants
The Felloh platform endeavours to solve the disaccord between the two having detailed insight into the data around this movement of funds.
The decision for Felloh to become B Corp certified was simple: "we wanted our business to be about more than profit. It should have a moral code that is consistent throughout the way we operate." At one point, they considered becoming a non-profit entirely but needed to raise capital to build the tech to make the business function.
Managing the B Corp admin
Felloh started accreditation right at the beginning of their start-up and were immediately 'pending' as they were less than 12 months old. Following this was the onerous task of pulling together all the appropriate documents, such as policies for recruitment, and refining their processes to make sure they were thinking sustainably in every aspect of the business.
Bicknell hired a B Corp consultant to help Felloh complete their journey. He found this particularly useful to learn the format of the documentation required and guidance along the way. One of his key messages for other companies looking to embark upon the journey was that they should be ensuring their business is genuinely working in a sustainable way before trying to attain the qualification. He advises "if it's necessary to change everything about the way your company operates from the start, it might not be the right time to go for it. If you're already working sustainably and you just need the appropriate documents to back this up, then it becomes much easier." If you're not sure how appropriate your business is, Bicknell suggests taking the B Corp impact assessment to give you some idea.
In addition to the moral incentive, Bicknell mentions that being B Corp accredited is a sensible business decision as it will make companies and consumers alike more open to doing business with you. He observes "this is particularly relevant in the travel where consumers are increasingly wanting to book sustainable travel. Rather than constantly having to prove your sustainable and ethical credentials, it can be very useful to show all of this through one accreditation."
To find out more about Felloh, please head here.